Stretch Wrap - Cast - 4 rolls per case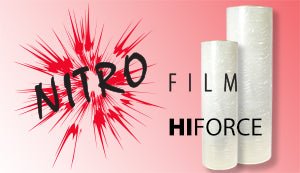 Our best-selling stretch film. We tested many cast films before choosing our house film.
Quiet:

 

"stealth film" comes off the roll smoothly and quietly.

Clear:

 

High clarity for barcode reading or load identification.

Quality:

 

Smooth, easy release - Wraps loads fast with little effort.

Savings:

 

10% to 20% less expensive than brand name films.
80 gauge - For loads up to 2,500 lbs.
47 gauge - For loads up to 1,300 lbs. 
DIMENSIONS: 
Core: 3"

Roll Diameter: 5 1/2"

MATERIAL:
LLDPE (Linear Low Density Polyethylene)
TEMPERATURE:
Performance: 32° - 120° F
FEATURES:
Stretch Level: Up to 250% 
2-sided cling
RECYCLING:
Recycled Content: 0%
Not biodegradable
SPECIFICATIONS:
FDA compliant for indirect food contact.