MIGHTY TAC ACRYLIC TAPE (6 rolls/Pack)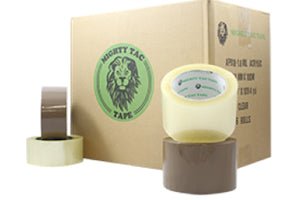 Quality acrylic adhesive tape.
Recommended for lightweight packages under 40 lbs.
16 lbs. per inch tensile strength.

Our best-selling tape. Strong solvent acrylic adhesive sticks to virtually any surface.

DURABLE: Industrial Tape stands up to heat, humidity and cold. Application range 0°F to 140°F.

RELIABLE: Long shelf life.

APPEARANCE: Crystal clear - Won't yellow. Makes packages look their best.
DIMENSIONS:
Core: 3"
Diameter: 4 1/2"
FEATURES:
Rolls have a paper starter tab.
MATERIAL: 
Backing: Polypropylene film  
Latex free
TEMPERATURE: 
Performance: -60° to 140° F
USAGE: 
Takes approximately 40 minutes to reach maximum bond.